Medium infrared radiant intended to work in average conditions of power density, temperature (100°C max. ambient) and high humidity (double insulated installation required).
Insulation and frames specific to the food industry.
Small radiators < 1,5 m
Very low inertia < 5 seconds,
High radiation efficiency > 90
Medium and high density up to 60kW / m²
*Suitable for humid environments.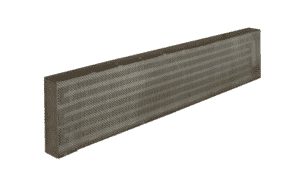 Mid-infrared radiant (2.6 microns) integrating :
1 heating drawer equipped with low inertia corrugated ribbons (≈5 seconds) attached to
a non-fibrous insulator used in the food industry.
A stainless steel frame + fixing points equipped with insulators (assembly type
double insulation).
Stainless steel connection on insulators.
Radiant with or without front grill.
Other dimensions, power and voltage on request.
| Lg x La | Puissance | Tension | Intensité | Référence |
| --- | --- | --- | --- | --- |
| 640X172 | 3500W | 115V | 31A | MF3.5FM06417 |
| 780X172 | 4000W | 115V | 31A | MF4.0FM07817 |
| 1000X172 | 6000W | 200V | 35A | MF6.0AM10017 |
| 1220X172 | 7000W | 230V | 33A | MF7.0PM12217 |
| 1220X172 | 7000W | 430V | 19A | MF7.0VM12217 |
You have a question, a new project, we are here to help you :