Medium-wave infrared heater intended to work in average conditions of power density

(< 40 kW/m²), temperature (100°C max. ambient) and humidity
.
(Installation in double insulation required).
Medium length heaters < 3 ml
Very low inertia < 5 seconds
High radiation efficiency > 90
Medium density (up to 40 KW / m²)
*Not suitable for humid environments.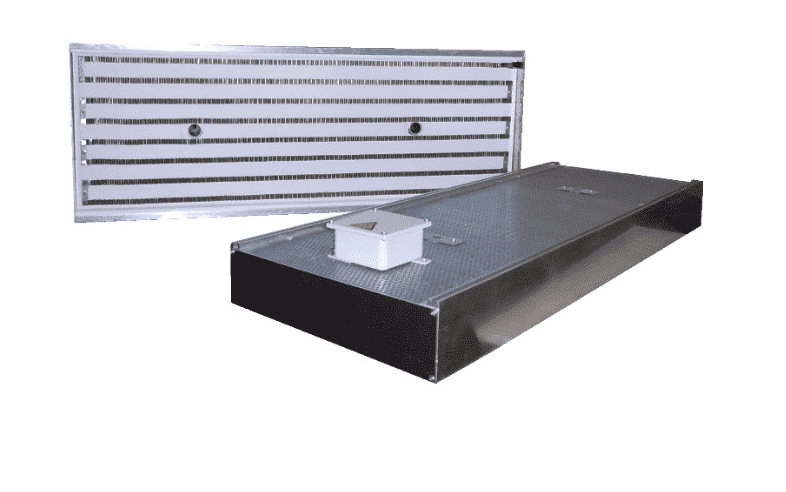 Medium-wave infrared heater (2.6 microns) integrating :
1 heating drawer equipped with low inertia corrugated ribbons
(≈5 seconds).
An aluminum frame + M6 screw slot + stainless steel mesh
as an option.
Connections in a box at the back of the frame.
Customer cable passage through cable gland.
All sizes up to 3 meters long.
Other dimensions, power and voltage on request.
Length x Width
Power
600 x 500
Available standard power:
4,5 kW / 19 A
6 kW / 26 A
7 kW / 31 A
8 kW / 35 A
9 kW / 40 A
1000x300
1400x300
1600x300
2200x200
Length x Width
Power
1000x300
Standard Power :
7,5 kW / 19 A
9,5 kW / 24 A
11,5 kW / 29 A
13,5 kW / 34 A
15,5 kW / 39 A
1400x300

1600x300

2000x250

2250x250

2500x250
Length x Width
Power
1500x350
Available standard power:
14 kW / 21 A
17,5 kW / 26 A
21 kW / 31 A
24,5 kW / 36 A
28 kW / 41 A
34,5 kW / 50 A
1800X350

2000x350

2250x300

2500x300

2800X300
You have a question, a new project, we are here to help you :