Medium infrared radiant for working in conditions
Extreme power density, temperature (300°C max. ambient) and humidity. (Double insulated mounting required).
Long length radiators up to 6 ml
Very low inertia < 5 seconds
High radiation efficiency > 90
High density (up to 70 kW / m²)
Suitable for humid environments.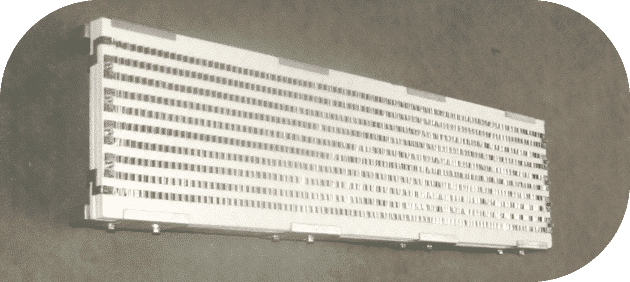 Mid-infrared radiant (2.6 microns) integrating :
1 heating drawer equipped with low inertia corrugated ribbons (≈5 seconds).
Machined ceramic guides in which the drawer is fixed.
A high temperature painted welded frame + fixing points with
insulator.
Bare connections fixed by insulators in a box at the back of the chassis.
Customer cable passage through cable gland.
Radiant without front grill. (Possible in option)
All sizes up to 6 meters long.
Other dimensions, power and voltage on request.
Lg x La
Puissance

600x500
Puissances standard :
4,5 kW / 19 A
6 kW / 26 A
7 kW / 31 A
8 kW / 35 A
11 kW / 48 A
1000x300

1400x300

1600x300

2200x200
MRI
HP CERA 230V/400V Mono
Lg x La

Puissance
1000x300
Puissances standard :
7,5 kW / 19 A
9,5 kW / 24 A
11,5 kW / 29 A
13,5 kW / 34 A
15.5KW / 39 A
20 kW / 50 A
1400x300

1600x300

2000x250

2250x250

2500x250
MRI
HP CERA 230V/400V Tri
Lg x La

Puissance
1600x350

Puissances standard :
14 kW / 21 A
17.5 kW / 26 A
21 kW / 31 A
24.5 kW / 36 A
28KW / 41 A
35.5 kW / 50 A
(à partir de 2250mm)
2000x350

2200x350

2500x300

2800x300
You have a question, a new project, we are here to help you :