Heating of moving products or localized heating
Medium power density 30 to 100KW/m².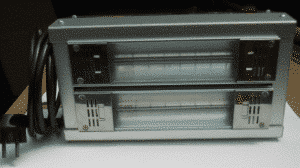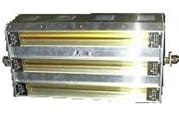 1 short-wave infrared heater with its aluminum reflector.
Width of the reflector: 55 mm.
Aluminum frame with mounting brackets.
Power supply via Harting plug or cable.
Cooling of the tube and reflector by
fan.
1 optional protective glass
Instant, direct and fast heat.
High power. Very short processing time.
Perfect homogeneity of the heating.
Very precise regulation.
High efficiency. Significant energy savings.
Parabolic

Module - 1 tube
| Dimensions (mm) | Power | Voltage | Reference |
| --- | --- | --- | --- |
| 370 x 85 x 150 | 1000 W | 230/240V | EC1.0UM360 |
| 370 x 85 x 150 | 2000 W | 230/240V | EC2.0UM360L |
| 370 x 85 x 150 | 2000 W | 400 V | EC2.0VM360L |
| 510 x 85 x 150 | 2000 W | 400 V | EC2.0VM500L |
| 800 x 85 x 150 | 3000 W | 400 V | EC3.0VM800L |
Parabolic

Module - 2 tubes
| Dimensions (mm) | Power | Voltage | Reference |
| --- | --- | --- | --- |
| 240x165x150 | 2X500 W | 240 V | SPC1.0UM024016A |
| 370x165x150 | 2X1000 W | 240 V | SPC2.0UM037016A |
| 370x165x150 | 2X2000 W | 240 V | SPC4.0UM037016A |
| 370x165x150 | 2x2000 W | 400 V | SPC4.0VM037016A |
| 510x165x150 | 2x2000 W | 400 V | SPC4.0VM051016A |
| 800x165x150 | 2x3000 W | 400 V | SPC6.0VM080016A |
Parabolic

Module - 3 tubes
| Dimensions (mm) | Power | Voltage | Reference |
| --- | --- | --- | --- |
| 370 x 250 x 150 | 3X1000 W | 230/240V | SPC3.0UM037025A |
| 370 x 250 x 150 | 3X2000 W | 230/240V | SPC6.0UM037025A |
| 370 x 250 x 150 | 3X2000 W | 400V | SPC6.0VM037025A |
| 510 x 250 x 150 | 3X2000 W | 400V | SPC6.0VM051025A |
| 800 x 250 x 150 | 3X3000 W | 400V | SPC9.0VM080025A |
You have a question, a new project, we are here to help you :