Our PAINT'IRC module has been designed to restore the radiation of the short infrared tube in the best conditions of efficiency and homogeneity. It has been defined within the framework of power densities adapted to drying and baking of paints and coatings.
Low density 5 to 30 KW/m².
For homogeneous heating on fragile parts, painting on steel and plastic, drying of coating, heating of thermoset.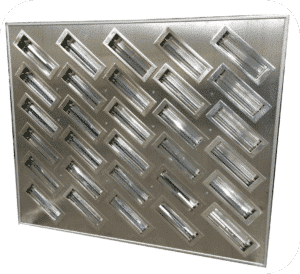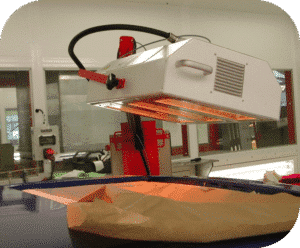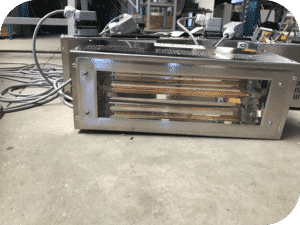 Multi-faceted reflector in treated aluminum
PAINT'IRC layout : 150 x 425 mm mini.
Frame made of aluminium profiles H. 195mm,
1 front grid.
Plug-in power supply.
Cooling of the tube and reflector by fans
Possibility of combining the modules by 2 or 3, or creating custom-made panels.
PAINT'IRC

Module - 1 tube
| Dimensions (mm) | Power | Voltage | Reference |
| --- | --- | --- | --- |
| 490x200x200 | 1000 W | 230/240 V | SPC1.0PM049020D |
| 490x200x200 | 1500 W | 230/240 V | SPC1.5PM049020D |
| 490x200x200 | 2000 W | 230/240 V | SPC2.0PM049020D |
PAINT'IRC

Module - 2 tubes
| Dimensions (mm) | Power | Voltage | Reference |
| --- | --- | --- | --- |
| 490x400x200 | 2X1000 W | 230/240 V | SPC2.0PM049040D |
| 490x400x200 | 2X1500 W | 230/240 V | SPC3.0PM049040D |
| 490x400x200 | 2X2000 W | 230/240 V | SPC4.0PM049040D |
| 930x200x200 | 2X1000 W | 230/240 V | SPC2.0PM093040D |
| 930x200x200 | 2X1500 W | 230/240 V | SPC3.0PM093040D |
| 930x200x200 | 2X2000 W | 230/240 V | SPC4.0PM093040D |
PAINT'IRC

Module - 3 tubes
| Dimensions (mm) | Power | Voltage | Reference |
| --- | --- | --- | --- |
| 530x490x200 | 3X1000 W TRI+N | 230/240 V | SPC3.0PM049053D |
| 530x490x200 | 3X1500 W TRI+N | 230/240 V | SPC4.5PM049053D |
| 530x490x200 | 3X2000 W TRI+N | 230/240 V | SPC6.0PM049053D |
You have a question, a new project, we are here to help you :