Heating focused on a small area
Reactivation of glue, heating of wire or profile while running, etc…
High density 60 to 200KW /m²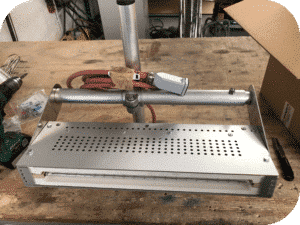 Short infrared transmitter with :
1 aluminum reflector of 22 mm width
1 Stainless steel frame with 1 air supply port
of cooling.
Internal wires passage in high sheaths
temperature.
1 short infrared tube, front panel mounting.
Cooling system
The set for 3 to 6 SM'IRC:
1 motorized centrifugal fan
1 filter installed on the suction
1 air box 350x250x200 equipped with
3 to 6 outlets 25 ext,
3 ml of spiral hose per start
(length to be recut if necessary)
2 clamps per hose.
Left version: fan on the left when looking at the door
(diagram below).
Right version: fan on the right when looking at the door.
| Dim. Réflecteur | Puissance | Tension | Référence |
| --- | --- | --- | --- |
| 360 x 22 mm | 2000 W | 230 V | SPC2.0UM360I |
| 500 x 22 mm | 2000 W | 230 V | SPC2.0VM500I |
You have a question, a new project, we are here to help you :