SOP
'zone

: industrial infrared heating made in France
Short-wave infrared heater with high efficiency and very good homogeneity.
Heating in the building inside or outside; heating of stock, polymerization of thermoset.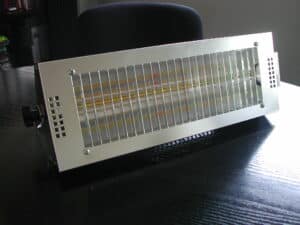 Multi-faceted treated aluminum reflector + aluminum frame
Possibility of stainless steel frames for food and livestock industries
1 front protection grid
Power supply by wire 1.5ml + 230V plug (OPTION)
SWI tube in any position – Power 1000W, 1500W or 2000W
Clear (white light) or anti-glare (red light) tube
Advantages:
SPEED, ECONOMY, QUALITY, SAFETY

.
Instantaneous heat at occupant level.
Very high thermal efficiency.
Possibility of heating by zone, by detection and intermittently.
Precise and flexible control.
Very good heat distribution.
Fast temperature setting.
Significant energy savings.
No floor space required, easy to install and maintain (light and compact device).
Silent (no air movement).
Simple power supply.
You have a question, a new project, we are here to help you :